---
Woodland inn and guesthouse Hof Guttels in Rotenburg / Fulda: Everyone who comes for the first time at this place, will feel the uniqueness.
EHS people will feel comfortable with us due to only poor mobile connectivity at our place. In our chalet Wi-Fi can be switched off, also all power circuits – if desired – can be switched off completely. Candles and fireplace provide romantic light and warmth if needed. Also in the surrounding mobile communications is possible only at exposed sites. Fortunately due to the many uninhabited valleys the construction and operation of transmission towers is not lucrative.
Our chalet, the "Ellerhaus", has 6 beds and 2 additional sleeping places for children on the couch. On the ground floor the Ellerhaus is suitable for wheelchairs. It consists of kitchen, living room with fireplace, bathroom with tub. On the upper floor you can reach the bedroom with its double and a single bed, a separate toilet as well as a balcony. Another bedroom with three single beds is located behind the first bedroom (which then is a connecting room).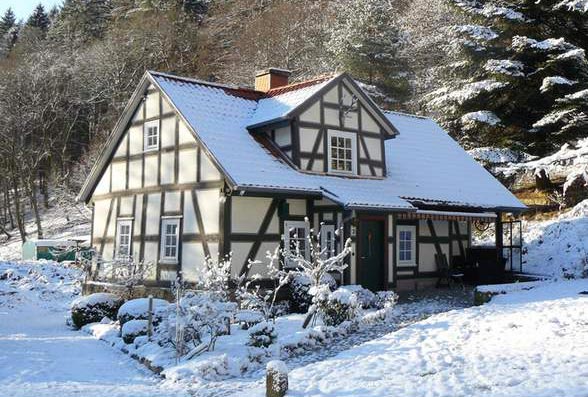 Hof Guttels is located in a beautiful flood plain, a few kilometers from Rotenburg / Fulda, nestled in a beautiful forest with walking trails. These trails are ideal for hiking, walking, biking, horseback riding, and simply enjoying the tranquility.
For overnight guests we also offer breakfast, lunch, dinner and drinks.
We look forward to welcoming you! For more information visit our website or contact us!
Kind regards
The team of Hof Guttels