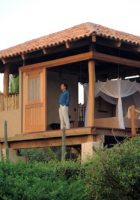 Contact owner
Playa Viva is a small eco-resort on Mexico's Pacific coast. The 160-acre private reserve provides trails which lead from the beach through the dunes, into wetlands and up rocky knolls. The permaculture team is restoring a network of paths which enables the guests to explore the diversity of vegetation and wildlife of this area. At the southeastern end of the site a turtle sanctuary was established.
Currently there are eight eco-luxury rooms available for guests; all with beach front view. Wi-Fi is only available in the communal area, all guest rooms are free of radiation. The amenities included in the "all inclusive" rates are: airport transfer (with stay of 3 or more nights), exquisite seaside kitchen meals and the opportunity to attend yoga classes six times a week. Also for external yoga teachers this is a great place for holding yoga retreats.
Another sustainable mini resort run by the hosts is Casa Viva Troncones, which is located about one and a half hours away to the north, also on the Pacific coast.